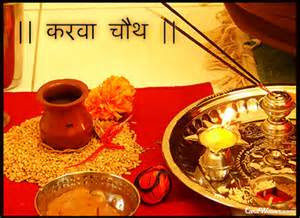 Karva Chauth coincides with Sankata Hara Chaturthi, that is the 4th day after a Full Moon. It falls on a Chaturthi, in Karthika masa, nine days before Diwali. Karva refers to an Earthern pot in which sweet or water is used for puja and is given away to the priest after. Chauth means four, here the fourth day after a full moon.
Married women, mostly from the Northern and Western part of India observe this vrat for the well being of their husbands and
family. They usually gather in groups to perform the puja, and the elderly narrate or read stories of Karva Chauth in the groups.Women observe fast from sunrise to sunset, and perform puja to Lord Shiva, Godess Parvati , Lord Ganesha and Subramania. At sunset, when the moon is sighted they offer Arghya to the Moon God and end their fast.
Please join us for this auspicious occasion.
Social Share